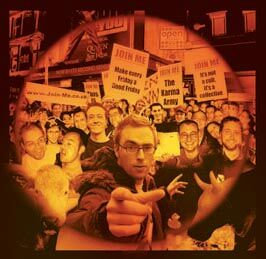 Danny Explains
[
]
Danny has a little to say about The Karma army here
Join Me Wiki Explains
[
]
The Karma army is the collective name for people who have joined Join Me. The popular quote is that "it's not a cult, it's a collective".
An individual that has Joined is called a "Joinee". As of December 2006, there are over 10,000 members, with an influx in members following in 2005 as a result of Wallace's BBC TV series How to Start Your Own Country, in which he found the nation of Lovely in his flat, a converted matchbox factory in the Bow area of London, meeting such luminaries as Noam Chomsky in one episode, and attempting to gain United Nations membership in another.
Perhaps the most famous Joinee internationally is the comedy writer Richard Curtis, together with the most famous UK daytime televison hosts Richard and Judy.
The Karma from the title reflects the fact that Joinees perform Random Acts of Kindness, specifically every Friday – each Friday is considered a Good Friday.
This also gives rise to the name of the annual meet, Karmageddon when as many Joinees that can make the journey to London and walk along Oxford Street handing out flyers and gifts. December 2006 saw the most recent Karmageddon, "Karmageddon 4", which fell on the day the Mayor of London, Ken Livingstone had decided to close the main shopping thoroughfares of Central London, Oxford Street, Tottenham Court Road and Regent Street to traffic, for Christmas celebrations — ensuring a wonderful reception from the general public when the Joinees came along.
External links
[
]