Join Date: May 2002
Silver Date: First Silver Joinee (date unknown)
Gold Date: Karmageddon 1
Platinum Date: Join Me June 1
Birthday: 13th April
Website?: The one, the only, Joinee.co.uk - it's better than cheese!
In his own words...
Edit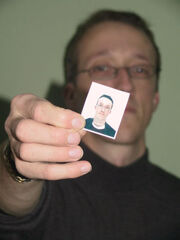 Back in February 2002 I saw something saying "Will you Join Me?" and an e-mail address and that's all it said, so in for a penny and in for a pound, I whacked off an e-mail. Then, nothing. Until 3rd March when I got the following reply:
Hello there!
And thanks for saying you'll Join Me. I love you for that, and I always will. Particularly as you probably don't know what you're going to Join Me in doing...
And I can't tell you just yet.
But it'll be good. And in no way sinister. So rest your weary mind.
I will be in touch...
Danny
Then, nothing. Until 19th May when the following e-mail arrived asking me for a passport photo. The Passport Photo was sent off that lunchtime and a mere eight days later on the 27th May I got the following e-mail:
Joinee Whitby,
Thank you so much for your photo. You have been Approved.
A questionnaire will follow.
Danny
I was in. A bone-fide Joinee.
Other Stuff
Edit